Erin Ferrell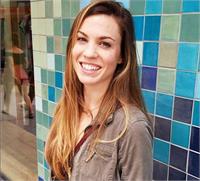 Erin Ferrell instructs the following:
Vinyasa is a unique style of yoga where postures are linked together in a continuous, challenging, and creative flow that combines strength and flexibility while toning the body and clearing the mind. Students are encouraged to move at their own pace with intention and to listen to their body as they explore their own edge and discover inner strength. These 60 minute classes are designed to create heat in the body and are set to upbeat, thoughtful music.




All levels stretch is an active stretching class that targets primary muscle groups surrounding the hips, hamstrings and upper back. Living in a forward facing, seated world, these areas tend to be tight for everyone. Tight muscles can cause imbalance and pull the body out of alignment. This class begins with warm-up movements to build heat and prepare the muscles to for stretching. Most poses are done on the floor and held for 1-2 minutes. Holding poses for longer periods of time and focusing on breath gives the body time to fully relax and open.




Stretchy flow is a fun style of yoga that is lead by the breath to build heat within the body. This class helps increase flexibility, strength, balance, concentration, focus, and the ability to breathe properly: all ways of increasing inner peace, health/healing, and stress reduction.